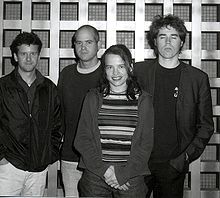 INDIE
The Chapel Hill music scene began to pick up steam in the 1980s when bands like The Pressure Boys, The Connells, Flat Duo Jets, Southern Culture on the Skids A Number of Things and Snatches of Pink began releasing their own records or signing to independent record labels. In the late 80's, thru the mid 90's the Chapel Hill scene reached its peak as bands such as Superchunk, Polvo, Archers of Loaf, Small, Zen Frisbee, Dillon Fence, Sex Police, Pipe, The Veldt, Metal Flake Mother and many other bands were signed to local and national labels. The Young Rock wave of music was filling the college radio airwaves.
In the late 90's, gold record and platinum success came to several Chapel Hill bands Squirrel Nut Zippers, and the piano pop trio Ben Folds Five.
PUNK
Raleigh-Durham-Chapel Hill was a regional center for punk rock in the late 70s, due to its large number of college students. The first wave of bands were more power-pop than punk, and included Peter Holsapple & the H-Bombs, Sneakers, and Chris Stamey and the dBs. The punks arrived shortly after with 'th Cigaretz, The Dads, the Fabulous Knobs, Butchwax, The X-Teens, Human Furniture, and the Junkie Sluts. Later hardcore punk bands included Corrosion of Conformity, No Labels, Colcor, UNICEF, Stillborn Christians,[7] DAMM, Bloodmobile, Subculture, 30 Foot Beast, Mission DC, the Celibate Commandos, Rights Reserved, Creeping Flesh, Time Bomb, Stations of the Cross, A Number of Things, and Oral Fixation.[8] Some other notable Heavy Metal acts to come from North Carolina are Weedeater (band), Buzzoven, Between the Buried and Me, and Confessor.
At the same time, Charlotte had its own punk rock scene. With bands like antiseen, Social Savagery, and Influential Habits from Charlotte, and bands from the local area, such as NRG from Hickory, and Bloodmobile from Statesville, to name a few. The Milestone was the main club for a good period of time, until a boycott began against the club, and its owner. During this time, shows moved around the Charlotte region, at times at the Yellow Rose, a club off South Boulevard. Christian based pop punk band Philmont also originate from Charlotte.
Community content is available under
CC-BY-SA
unless otherwise noted.